Small-Group Retreats to Heal the Spirit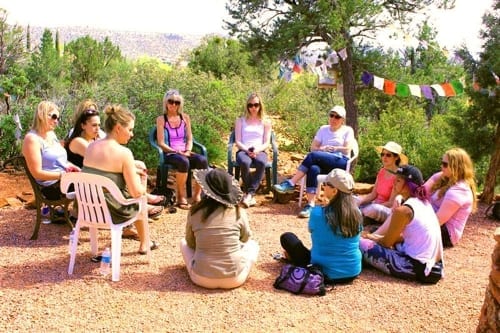 SpiritQuest Sedona Retreats is pleased to offer a full schedule of group workshops in the beautiful red rocks of Sedona. Facilitated by an elite, hand-picked team of master practitioners with decades of experience, our small Group Retreats are both powerful and affordable. These three-day experiences involve a group interaction in contrast to our private retreats which are one-on-one sessions. Book at least 30 days out and bring a friend for half price.
Our Center offers one group retreat a month, usually mid-month. These workshops have an established itinerary and are facilitated by two different practitioners. They start on Friday morning and end at noon on Sunday. The retreats involve discussion, group interaction, activities, and land journeys. Our individual group pages present the full itinerary for each retreat.
Why Seek a Group Retreat?
Unlike our private retreats which are customized and personal, this option is budget-friendly and clients express the value of hearing other people's stories. We all experience struggles in our lives. By clearing your schedule and participating, you commit to discovering a new aspect of yourself. Consequently, this spiritual growth results in personal growth that last a lifetime. Hearing other people's stories helps you realize that you are not alone. We hold you in the sacred arms of trust so you can explore and release thoughts, stories, and habits that are toxic. The best way to do that is to seek a quiet and safe refuge. That's why we are here for you.
In addition to the group sessions that are listed, you can also enhance your personal growth by adding one-to-one intensives from our extensive menu of holistic treatments & activities.
Call us or download our app from the Play Store to purchase your group retreat.
Calendar of Group Retreats In Sedona
Expand the + boxes below to see dates and learn more about each retreat.
Coming to SpiritQuest was like coming home. It was the ultimate life changing experience. My journey really opened my eyes to new perspectives and I found the clarity I was seeking. I walked away with a greater sense of self and the tools to continue supporting my physical, emotional, and spiritual health. I feel very blessed to have been in the presence of such talented guides.  I'm looking at the world through new eyes and I'm ready to live in love, light, and healing! Thank you SpiritQuest!
Sedona Group Retreats: Details
The information below applies to all group retreats described above that take place in Sedona.
Cost
Group retreats are $795 per person. Private sessions are available before, during, or after each group retreat for an additional charge.
Location
Group retreats are hosted at our beautiful retreat center and at some of the most photographed locations out on the red rocks of Sedona. With a spectacular view of Cathedral Rock and half a dozen easy hiking trails right out our back door, this is a wonderfully comfortable and safe place for small groups to gather.
Lodging
Lodging and meals are not included. Sedona offers numerous options for lodging in every price range. Our staff will be happy to assist you in making your reservation at one of our partner properties.
Transportation
Participants coming from out of state will usually fly into Phoenix (PHX) and drive approximately 2 hrs to Sedona. Departing flights can be arranged any time after the last day of the retreat. Participants will need access to a vehicle for this retreat.
Booking
Space is very limited for our group retreats, so payment in full is required at the time of booking.
Spiritual Group Retreat: Discovering Your Soul's True Purpose
Finding Your Life Purpose
This workshop is a perfect way to experience a weekend of deep introspection. Learn how to quiet the egoic chatter of the mind that keeps you constantly in a trap. Free yourself from the confined box of old cycles and patterns. Our life purpose retreat will give you the tools you need such as expansion and awareness. During this group interaction, you explore areas where you feel confused about your life purpose. When you align yourself with your purpose, you begin to feel that you are in the flow of your life.
Spirituality is about growing, expanding, and living in right action. Moreover, it's about understanding who you are. In this retreat, you will spend part of your days in discussion and exploring life-changing concepts.
Couples Group Retreat: Tools for Successful Relationships
Alignment for Success
Join us for a Couples Retreat in Sedona, AZ where we will share with you an alignment for success. Critically, it is important for couples to "be on the same page." Our practitioners guide you on a journey of manifesting your greatest dreams through learning self-care and healthy relating. Learn effective communication while establishing teamwork using the Nonviolent Communication model. Unlock unhealthy patterns by learning the value of honor and respect. Our couples group retreat is based on compassionate communication techniques.
This retreat is perfect for those who are looking to take their relationship to the next level, or for those who are struggling with their marriage or union. It is also valuable for those just starting a relationship or for those who are partners in business, as well as partners in life.
Women's Group Retreat: Accessing the Divine Feminine
Getting in Touch with Your Higher Self
Our Women's Group Retreat is very personal and intimate. Without a doubt, sisterhood connections are made that last far beyond the retreat itself. It focuses on empowerment to manifest their greatest dreams. Each women's group retreat includes a sacred journey to one of Sedona's many famous power spots. You don't want to miss this one. We limit our Sedona Women's Group Retreat to small intimate groups in order to assure a powerful experience.
Moreover, this retreat is an affordable option for women seeking to heal their hearts and find their purpose. Our intention is to provide solutions based on your life challenges. We guarantee that your voice will be heard. Are you ready to bond with other women?
Healing Group Retreat: Personal Healing For Empowerment
Heal Your Body & Soul
While our healing group retreat is about releasing the past, the greater focus is on moving forward! You deserve to find your inner strength and happiness. We can help you do that. We create a safe space where you allow yourself to truly let go of the past and patterns that keep getting in your way.  Moreover, a huge benefit is that you gather with others who are here for the same purpose.
Plus, your practitioner has a unique approach to help you clear those deep wounds that never seem to heal. Together you will support and connect on a deep spiritual level. Often bonds are formed that last a lifetime! This wonderful retreat uses spiritual wisdom and earth wisdom as a means of moving forward and finding peace. Spend a weekend on a Healing Group Retreat and be guaranteed you will be back for more!
Shamanic Group Retreat: Discovering Miraculous Self-Love Through Nature
Connect with Nature in Sedona, Arizona
Often we get so busy with the hustle and bustle of life that we forget our connection with Mother Earth and the tangible support she has to offer. When we reawaken our connection to Nature we are introduced to a powerful, magical relationship that can be life-changing. Moreover, everything we need is within this relationship, if only we allow ourselves to take that first step into enlightenment. Most importantly, this grounding Shamanic Group Retreat is facilitated by renowned spiritual practitioners.
Through the power of releasing fear and connecting with the root of who you are, you re-discover your purpose and direction. Even more, experience the Medicine Wheel and the power of animal wisdom in this Shamanic Group Retreat.  For that reason, we provide you with a very personal experience and guarantee that you feel connected. It's an atmosphere where you get in touch with your inner shaman.
Self-Discovery Group Retreat: Awakening Self Through Spiritual Expressions
Find Your Voice & Creativity
This Self-Discovery Group Retreat in Sedona, AZ is held at the SpiritQuest Sedona Retreat Center and on the Sacred Red Rocks of Sedona.  Utilizing the past, present, and desires for the future, this retreat offers opportunities to become aware of your shadow side. In addition, we move into a future of Self-Love.  Color Essences and other color-related products help bring you to a state of equilibrium. Utilizing color therapy, we help you to find a more true understanding of your potential.  Join us for this amazing Group Retreat of Self-Discovery.
This retreat is limited to a small group in order to assure a powerful and intimate experience. Our goal is to establish a nurturing atmosphere where all participants can get in touch with their creative aspects of themselves. It's an unforgettable weekend of interaction and finding your own voice!
Men's Group Retreat: Achieving Balance Through Stress Relief
Discover Balance & Peace
Achieving balance once our lives have gotten out of sync can be a challenge. This retreat addresses how to align again through connection, context, right action, stress management, and appreciation. Furthermore, our programs provide insights and tools to re-group and rebuild in order to achieve tranquility. Other topics focused on are self-worth, positive attitude, and deep connection. Our group retreats are small intimate gatherings open to men only. Our master guides help you move from ego-based operations to heart-centered.
The men's group retreat takes place both indoors in our retreat center and on afternoons outdoors at a medicine wheel. The greatest takeaway is the "Well of Wisdom" to facilitate your own growth providing deep empowerment of the soul. Shadow sides of the self are cleared and compassion, empathy, and love are brought in as the dominant force. If you like, arrive a day or two early and participate in a few personal one-on-one sessions.
Are you ready to start living your best life now?
In the U.S. call 928-282-2509 (from Canada 1-888-400-1819). Contact us today for a free consultation!
"Prayer is not asking. It is a longing of the soul. A daily admission of one's weakness. It is better in prayer to have a heart without words than words without a heart."
— Mahatma Gandhi