About SpiritQuest Sedona Retreats
A Retreat Center For Custom Built Retreats
Whether you're healing from emotional trauma, going through a major life transition, or simply ready to embrace yourself as the master of your own life, now is the perfect time to experience for yourself the amazing transformation that has changed so many lives! SpiritQuest Sedona Retreat Center offers holistic spiritual, healing, and yoga retreats in Sedona that can address all aspects of Mind, Body and Spirit. We are the ONLY personal retreat company in Sedona with a Retreat Center!  We offer Private Customized Retreats as well as Group Retreats Events. Just let us know what you need and we will be there for you.
SpiritQuest Sedona Retreat Center is located in the very heart of Sedona, surrounded by the area's most famous vortex sites: Cathedral Butte, Airport Mesa, Thunder Mountain, and Boynton Canyon. You'll notice the feeling of peace and serenity the moment you step through our door!
Your sessions will take place in one of our fabulous session rooms at our Retreat Center, in a tepee located just outside, at sacred vortex sites among the red rocks, or in private session rooms of our practitioners — all of which are within a 5-minute drive of our office. To complement our incredible location, SpiritQuest Sedona Retreats has assembled a special team of Sedonas best yoga teachers, healers, and guides together in a single organization.
The SpiritQuest Sedona Retreat Center Mission: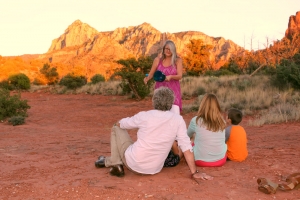 SpiritQuest Sedona Retreats was founded in 2007 with a focus on holistic health and Mind, Body, Spirit connection. We believe that the best approach to living your best life is a well-rounded one. No one can heal you the way you can. Therefore, the main goal of SpiritQuest is Empowerment. We do not seek to be your gurus. SpiritQuest Sedona Retreats is founded on six main principles: empowerment, integrity, self-love, letting go, manifestation, and compassion.  We offer our services in our retreat center to help facilitate your own personal journey. We incorporate Yoga principles to help you find a balanced life. If you have chosen us, you have chosen a "quest." Are you ready to do the work? SpiritQuest is a non-denominational, holistic retreat center.
Quest for Your Spirit With the Best Retreat Center In Town!
SpiritQuest Sedona Retreats has a Mind, Body, Spirit focus with a holistic approach. All you have to do is give us a call and we will talk with you in order to design the most fabulous package possible. Our commitment to excellence and attention to detail, coupled with the skill of our compassionate practitioners and the stunning beauty of Sedona, have made us one of the top retreat providers in the United States. Every client receives personalized and individual attention.
Our Retreat Center is equipped with all the tools and session rooms to enhance your personal and spiritual healing and growth.  As you enter our Center you will be welcomed with a beautiful reception, seating, visiting and meditation area.  Enjoy the tranquil sound of water and the serene smell of essential oils while your session is being prepared.
Your sessions in the Center will be conducted in one of our various rooms.  Starting with the Zen Room you will be welcomed with an array of Himalayan salt lamps to help bring emotional balance.  Salt lamps generate negative ions, which help you to feel more energized and uplifted.  During your retreat, enjoy the natural soothing vibrational energy in this room.
Our Sound Healing Group & Private Room consists of crystal bowls, drums, Tibetan bowls and amazing gongs.  Bring yourself into a deep meditation as these various sound healing tools guide you to a spiritual depth, connecting you to self.  Sound healing is increasingly embraced as the oldest, most gentle and most profound method of healing there is.  Sound Therapy works on the principle of resonance, which is the vibrational frequency with which each aspect, including the body, chakras and layers of the aura, most naturally want to vibrate.  Vibration of sound alleviates energy blockages in the chakras with minimal effort.  Join us in this amazing Sound Healing session room and experience a Shamanic Sound Healing, Gong Bath session, or a variety of other sessions offered by us.
Our Serenity Room is equipped with a beautiful massage table where you can experience a relaxing and healing massage with our wraps, sacred essential oils, Reiki, or a variety of other treatments.  Our massage healing process clears blocks in your energy fields, repairing and re-balancing the energy so that the body can move to its optimal level and begin to heal.  Energetic healing can also help identify issues or stresses before they manifest as pain or similar distortions in the physical body. It opens our consciousness to the areas we need to work through and heal in order to bring our lives into balance and maintain health, harmony, and vitality.  Other sessions included treating yourself to an amazing relaxation and healing experience on our Bio mat, filled with Amethyst crystals.  These Amethyst crystals transform lower frequencies to higher frequencies, balance and stabilize energies, calm emotions, and stress. These calm the mind, aid sleep, and help the nervous system.  Join us for these amazing experiences in our Serenity room at the SpiritQuest Sedona Retreat Center in Arizona.
The Healing Room is filled with majestic color bottles that are utilized as a tool for therapeutic healing.  Using these various forms of color and light for physical, emotional, and spiritual healing will quickly generate positive vibrations which are a benefit to yourself.  Our SpiritQuest Practitioners will help you understand how color assists the body in its natural ability to balance itself.  Color is one of the languages of the soul; just look at inspired or meditative paintings and see how they influence our mood and emotions.  All colors have a symbolic meaning which is immediately recognized by our subconsciousness; influencing our whole being of Mind, Body and Spirit. The bottles also contain crystals and plant essences, both having a consciousness to help us align and heal.  The healing room is a safe place to open yourself up to your pain, hurts, & stress; allowing yourself to release these negative vibrations.  SpiritQuest Sedona Retreats offer a variety of healing sessions such as: Color Essence for Healing, Letting Go of Your Story, Leaving Feelings of Abandonment Behind, Healing and Loving Your Inner Child, and many more.
Tepee, Medicine Wheel and Walking Labyrinth
The SpiritQuest Sedona Retreats Native Tepee is laid out in a specific position, as in the old days, where each part of it has a means for being balanced.  The four sides of the Tepee represent the Spiritual, Physical, Emotional, and Mental aspects of yourself. We need to try and balance these four parts that were given to us to function as people.  The east side of the Tepee represents Spirit from the east, where the sun rises, where our warmth and vision start. The south side of the Tepee represents all life is active. It's the time of summer.  As young people we are very physical beings, very active, continuously moving, changing, and clearing our life force energy. The west side represents the time of adulthood and responsibility for self and for other people. It's also the parenting stage of our life journey when we have that bond with the inner child.  We started from the east, we went to the south, and now we travel to the west in our journey. The north side is where the sun sets, it's the end of a cycle. It could represent something you want to release in order to start anew. Whether it is a Medicine Wheel ceremony or Labyrinth Meditation, we start our ceremonies in the east, and then we'll finish in the northern direction; which is our life journey and the wisdom of the ancient ones. Join us for a day, or even a week to reconnect to your Spirit in our Tepee, Medicine Wheel Journey, or Labyrinth.
The Medicine Wheel works with the four directions also, whereas each is typically represented by a distinctive color, such as black, red, yellow, and white. The Directions can also represent:
Stages of life: birth, youth, adult (or elder), death
Seasons of the year: spring, summer, winter, fall
Aspects of life: spiritual, emotional, intellectual, physical
Elements of nature: fire (or sun), air, water, and earth
Ceremonial plants: tobacco, sweet grass, sage, cedar
The labyrinth is a symbol that relates to wholeness. It combines the circle and the spiral into a quite personal path. The Labyrinth represents a journey to our own center and back again out into the world. Labyrinths have long been used as meditation and prayer tools.
Our Tepee, Medicine Wheel, and Labyrinth are located a very short distance from the Retreat Center where a variety of sessions and ceremonies are held.  These sessions can include: Empowerment Tools of the Inner Journey, Meet Your Guides, Dream Time Journey, Yoga sessions, Medicine Wheel Ceremonies, Walking the Labyrinth, as well as many others.  Join us at the SpiritQuest Retreat Center for these moving experiences which will rejuvenate your Spirit.
Connect with the Sacred Land
Sedona is known worldwide for its beautiful red rocks and sacred sites. Virtually everything that visitors come here to see and experience, are actually located on land managed by the U.S. Forest Service. While visitors are free to explore the Coconino National Forest on their own, commercial companies that provide services to the public on forest land are required to have a permit.
SpiritQuest Sedona Retreats is proud to be one of the few spiritual companies in Sedona to have met the standards required by the Forest Service to conduct business such as Yoga, Spiritual and Shamanic ceremonial activities in the Red Rock District of the Coconino National Forest. This very special permit not only allows us to take you to some of the most beautiful places on Earth, it also allows us to leave the trail in order to do these sessions and ceremonies in safe and private locations. As a permitted company SpiritQuest Sedona Retreats adheres to regulations that require liability insurance, professional training for all guides, and ongoing trail maintenance. The fees we pay to the Forest Service contribute to the conservation and protection of these unique resources.
Mend Your Heart
Your Sedona retreat experience will be one of renewal and rejuvenation! We find that after participating in their retreats clients ask themselves, "Why didn't I do that a long time ago?" We should take before and after pictures because that's how much some of our clients change. Yes it literally can change your life. Many feel that upon their departure they are equipped with new tools and insights that they can utilize in their everyday lives. Sedona, Arizona is known as one of the main retreat capitals of the world. Literally, people travel from all over the planet just to find a way to heal their hearts and re-connect with themselves once more. SpiritQuest Sedona Retreats has a Mind, Body, Spirit focus based on a yoganic holistic approach. All you have to do is give us a call and we will talk with you in order to design the most fabulous package possible.
"I would like to say thank-you to each and every one of you that has been on this wonderful journey. My heart has been cracked WIDE open, and I can feel my light shining. I have learned that the past stories are just that, stories, and I choose to write and live new ones. I feel very free and I am going home with a stronger sense of knowing who I am. My life has changed by having more peace in my mind and soul. I love knowing there are people from my tribe here. I love being on the land the most. I will highly recommend SpiritQuest. Thank-you again for sharing my journey."
At SpiritQuest Sedona Retreats, you can choose Customized Private Retreats,
Scheduled Group Retreats, or Day Packages at Our Retreat Center.
Are you ready to Gift yourself with a personal retreat?
In the U.S. call 928-282-2509 (from Canada 1-888-400-1819). Contact us today for a free consultation!